Masterclass - The Power & Importance of Business Etiquette
July 19, 2023 (1:45 PM - 8:15 PM) (PDT)
Description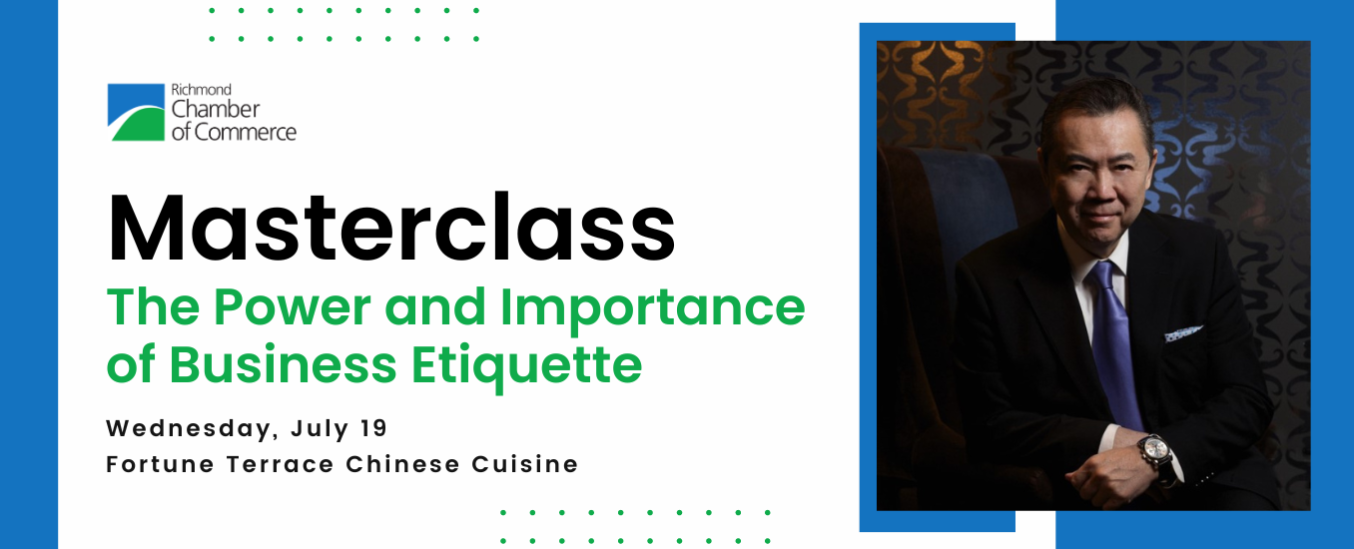 Etiquette: it's the unspoken code of conduct that governs our polite behaviour in society. Done well, etiquette helps to make other people feel at ease and build common ground. Unfortunately, poor etiquette can easily be construed as intentional rudeness, souring a relationship. In today's global business world, an unspoken code of conduct is insufficient.

The Richmond Chamber of Commerce is inviting you to join us for an exclusive Masterclass with Dr. Clinton Lee, an expert in business etiquette and connection-building.
In this event, you will gain practical insights and wisdom on how to develop lasting relationships in today's fast-paced, globalized business world. Dr. Lee will share tips and strategies on how to connect with different generations, cultures, and navigate trigger points.
Whether you're a seasoned executive or a rising professional, this Masterclass will provide you with the skills to achieve your goals and thrive in your career.
You'll get a chance to:
Learn the intricacies of international and inter-generational business etiquette
Enjoy a luxury 10 course Chinese banquet dinner with wine pairings
Receive an Asia Pacific Wine & Spirit Institute online Etiquette Course
Interact with like-minded successful professionals
Ask your questions in a Q&A session
Receive a copy of the book, "Master the Art of Manners" authored by the presenter Dr. Clinton Lee.
Don't miss out on this opportunity to learn from one of the foremost experts in the field of business etiquette and connection-building. Register for the masterclass today and discover the keys to unlocking the full potential of your professional relationships!
WHEN:
Wednesday, July 19th, 2023
1:45 PM: Registration Opens
2:00 PM: Presentation & Live Activities
6:00 PM: Dinner and Q&A Session
8:15 PM: Event Concludes
WHERE:
Fortune Terrace Chinese Cuisine
#130 - 6200 River Road
TICKETS:
Non-Members: $800 + GST
Chamber Members: $682.50 + GST
PRESENTED WITH:
PRESENTER:
Dr. Clinton Lee is a keynote speaker, author of "Master the Art of Manners", has traveled to over 100 countries, is an acknowledged etiquette, wine, and spirit master.
He has lectured on 5 continents and is a social media phenomenon and influencer with over 2 million followers and over 1 billion views of his videos. He holds an MBA (Finance) and a Doctorate in Cultural Diversity and Organizational Behaviour.
Dr. Lee is the Executive Director of the Asia Pacific Wine & Spirit Institute, and has attained the Wine Spirit and Education Diploma and Certified International Educator from London, UK. Dr. Lee has also attained the Certified Specialist of Wine, Certified Specialist of Spirits designation and the French Wine Scholar (USA). He is a Certified Sherry Educator awarded by the Consejo De Regulador (Spain) and is a wine judge with the Hong Kong International Wine Judge Association.
He has been a lecturer at the University of Simon Fraser teaching and developing the wine program there for the last five years. Dr. Lee has been hosted by the Wine Institute of Germany, Italian Vinitaly and the Spanish and Chinese governments. He has presented at the OIV 9th World Symposium on Viticulture and Oenology in China.




Pricing
Non-Members: $800 + GST
Chamber Members: $682.50 + GST
Fortune Terrace Chinese Cuisine
#130 - 6200 River Road



Richmond

,

BC

V7C 0B1

Canada



July 19, 2023 (1:45 PM - 8:15 PM) (PDT)
Categories
Educational Event
Networking Event